GMR Transcription fulfills its mission of acquiring satisfied customers yet another quarter. Fourteen years ago, we started with a purpose and a vision. The purpose was to provide good quality transcription by hiring an excellent team of representatives and the stellar US based transcribers. The vision was to provide affordable pricing and accurate transcripts to our clients followed by exemplary customer service. We have managed to fulfill our goals despite some challenges along the way. Today, the results of our customer service survey are revealed, and we would like to thank our transcriptionists and customer support team for being a part of our vision and making it a success.
We pride in having affordable rates and quick turnaround times to fit all needs. Our customers are our top priority, and it is our main focus to provide you with the customer service and transcription accuracy that you deserve. A few weeks ago, we sent out a survey to our clients and asked them to let us know about their experience with GMR Transcription, and the results were better than we could have ever imagined!
We asked our clients to rate various aspects of our services on a numerical 1-10 scale. The results speak for themselves!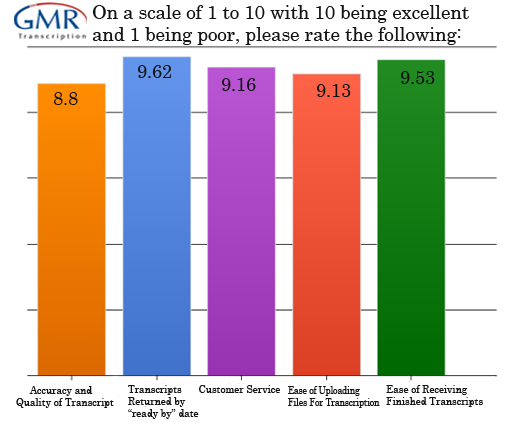 Client's testimonials:
"Overall, the accuracy is excellent. The one time I had an issue, I brought it to the attention of the staff and it was resolved extremely quickly."
When we asked about our accuracy of transcripts, we got an overwhelmingly positive response. With a rating of an average 8.8 out of 10, our customers felt that not only was our accuracy in producing their transcripts outstanding, but incredibly timely.
"The GMR Team is very good about sending back the transcription."
Our survey results revealed that we were given an incredible 9.62 out of 10 average on our transcript return rate. We know that you have a busy schedule and it our goal is to fit into it in the best way possible!
"The response time from your customer service is fantastic!"
As much as we like to pride ourselves on supplying customers with the very best work possible, we also like to acknowledge the fact that we establish solid relationships with our clients. Not only should your time with us be productive, but it should also be as pleasant as possible.
We pride ourselves on the fact that all of our clients rated our customer service as either outstanding or good.
"Just keep up the wonderful work! It is great to have a company that is so reasonably priced and ACCURATE and TIMELY with this type of work."
Our customers' general consensus was that their experience with us has been more than outstanding. 73.4% of respondents were very happy with our service and 22.2% were happy and would use our services again in the future.
We are an accurate and timely transcription service provider, and our customers are our top priority. Feel free to visit our website and find out for yourself.
Learn more: How to Choose the Best Transcription Service for Your Business